Ladies, is the White House marriage a hot mess – or what?
First Couple marital spats displayed in front of the country like this? Really…? We as a nation have never seen anything like this before.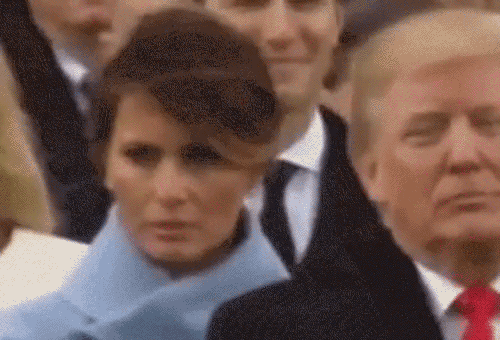 Tuesday, Ms. Melania decided to arrive to her husband's maiden State of the Union address A-L-O-N-E – separate from her man. And, she stepped out wearing all winter white symbolizing the #MeToo movement, suffragettes, Ms. Hillary and of course purity. And don't let the political pundits tell you she didn't know what she was doing. Ladies, Melania was making a statement!
Ever since Melania heard reports that her husband paid hush money to porn star Stormy Daniels, she has refused to be seen in public with The Donald. SuzyKnew! frowns on tabloid marriages in the White House. But, we have to give Melania her props for not taking crap from her man like Hillary and probably plenty of other First Ladies did. (SuzyKnew! remembers those smoldering encounters between "W" and Condelezza Rice until Bush's  aides told him to cut it out….)
Going solo to the State of the Union address is only the latest act in a long line of actions Melania has taken to show Donald she is unhappy with his behavior.  If you have never been sure about how to put your man in the doghouse, Melania can teach you a few tricks.
First, learn from Melania's cancellation of her trip to Davos, Switzerland last week. Don't take a trip with your man if you think he's cheating on you. He's not going to get nooky from her – and you, too.   Who cares if he needs your support on some business trip. And, who cares what traditions you're breaking or what people will say.  Focus on you and your relationship.  You need to make him think twice before cheating on you again.
Second, when your husband is cheating on you, take care of yourself. Self-care is de rigueur. Follow Melania's example and head off to a spa. You may not be able to afford the $64,000 that Melania's day trip to the spa in the Mar-a-Lago resort in Palm Beach reportedly cost tax payers. But, definitely do not skimp on the spa treatments. You need to do what you need to do to de-stress, de-tox and forget about the pain your man has caused you. And, make sure he pays the bill. Make him pay big time.
Finally, don't let your man touch you – not even your hand – when you're mad at him. Do like Melania and slap your man's hand away when he reaches out for you. 
He needs to understand he gets none of you when you're pissed. This will make him remember your value and stop him from pissing you off in the first place. He shouldn't be pestering you, trying to hold your hand pretending like things are good between you two. Push his nasty hand away.
Ladies, relationships are tough. And obviously, any one would have a tough time with The Donald as a partner. But, if the First Lady is struggling with all her money and support systems, you know we're going to struggle.  But, if, like Melania, you can't keep your stuff private, at least keep it real like she does.